Twitter Announces Promoted Trend Spotlight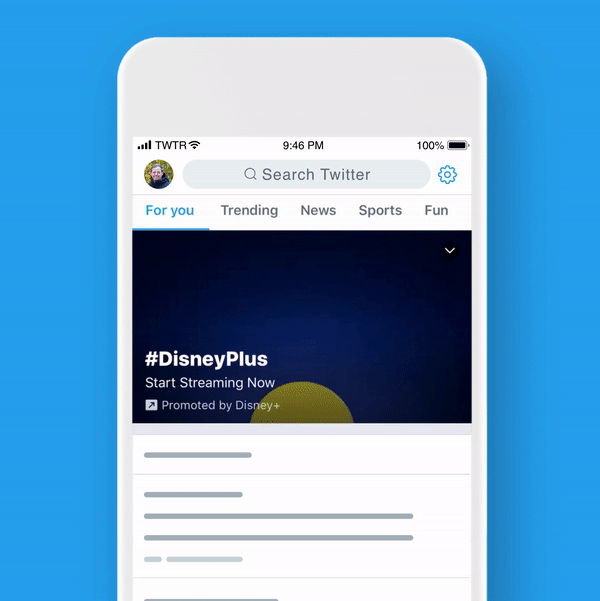 As explained by Twitter -
"Today, we're announcing the launch of the newest takeover ad product on Twitter, Promoted Trend Spotlight. This takeover ad placement pairs the undeniable stopping power of video with the premium real estate of Twitter's Explore tab. The Explore tab, Twitter's collection of trending topics and hashtags, is where people go to see what's happening, making it a prime location for advertisers to connect with people and conversation."
Key features:
Captures attention: With immersive, full-width creative, Promoted Trend Spotlight captures attention and reinforces your message.

Differentiates your brand: Sitting atop the Explore tab, Promoted Trend Spotlight differentiates your brand from other placements on Twitter by appearing next to highly curated editorial content.

Surfaces conversation: Tying together the prominent placement and expansive coverage atop Twitter's Explore tab, brands have the opportunity to generate conversation and invite discussion.
Facebook Announces New Policy to Crackdown on Manipulated Media 
Facebook is officially starting to implement their policy to stop the spreading of misleading fake videos. According to Facebook they will be removing content based on the following: 
It has been edited – beyond adjustments for clarity or quality – in ways that aren't apparent to an average person and would likely mislead someone into thinking that a subject of the video said words that they did not actually say. And:

It is the product of artificial intelligence or machine learning that merges, replaces or superimposes content onto a video, making it appear to be authentic." 
YouTube Implements New Restrictions on Data Collected from Videos Aimed at Children
As explained by YouTube -
"Starting in about four months, we will treat data from anyone watching children's content on YouTube as coming from a child, regardless of the age of the user. This means that we will limit data collection and use on videos made for kids only to what is needed to support the operation of the service.
We will also stop serving personalized ads on this content entirely, and some features will no longer be available on this type of content, like comments and notifications."