WordPress plugins are great because they are both functional and allow you to integrate and run things on top of the existing software. This allows you to create almost any kind of custom stylizations within WordPress. 
Pictured below is an example of where you can find plugins on your WordPress Account Dashboard: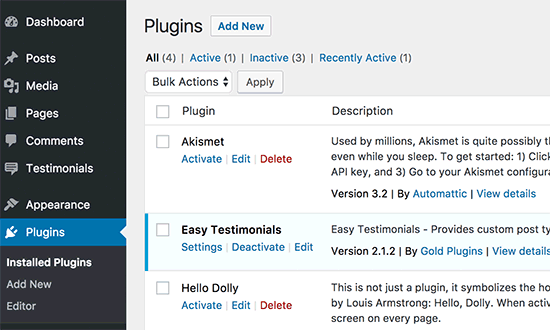 There are WordPress plugins to improve SEO, boost performance, add contact forms, social media buttons, create galleries, and so much more. 
Yoast SEO is an absolutely essential for your site and is by far one of the most used WordPress plugin of all time. Out of all the plugins, Yoast offers all the features and tools that you need to improve your on-page SEO.
Yoast comes with a powerful Redirect feature that lets you easily create 301 redirects which is extremely helpful. It also detects change of URLs and create auto-redirects, so you don't have any broken links on your website.
Advanced Custom Fields is another plugin and ACF's allow you to do 3 things very easily:
Add fields on demand -
Our field builder allows you to quickly and easily add fields to WP edit screens with only the click of a few buttons.
Add them anywhere -
Fields can be added all over WP including posts, users, taxonomy terms, media, comments and even custom options pages.
Show them everywhere -
Load and display your custom field values in any theme template file with our hassle free developer friendly functions.
According to their site, Advanced Custom Fields version 5.8.7 is now available! They stated that,
"This release focuses on WordPress 5.3 compatibility, including the new high-contrast admin styles. These new styles look great, offering a more contemporary and accessible look to the WordPress admin. It's worth mentioning that we included backwards compatibility for the previous admin styles too – meaning ACF will look great, no matter which version of WordPress is installed!"